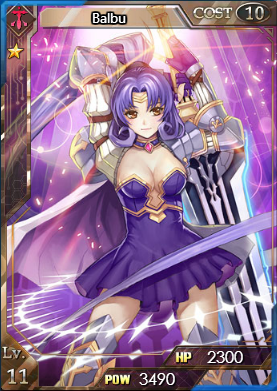 Star Level: ☆
Rarity:  Normal
Energy Cost: 10
HP: 890 / 979 (Flash)
Power: 2490 / 2739 (Flash)
Max Limit Break: 3 
Spell: Hitting: Face Thump - Power increases by 50%.
College: Dragonale College
Illustrator: OctSky
Intro: Balbu is a student of the Dragonale College. Her broadsword was made from special materials of the Skyrage College, so it looks quite heavy but is actually pretty light. She is still very young, but she is an excellent strong-minded student. Her future is regarded promising.
Obtain: Kindness Draw, Normal Infector drop, and Exploration in some Common and Daily zones.
Ultimate Form
Level: 11 / 11 (Flash) / 40 / 40 (Flash)
HP: 2300 / 2530 / 3700 / 4070
Power: 3490 / 3839  / 4600 / 5060