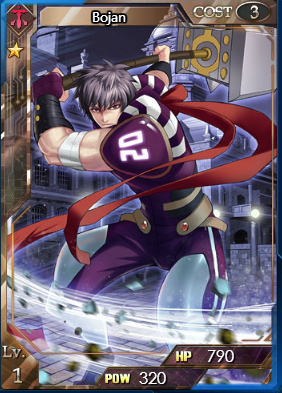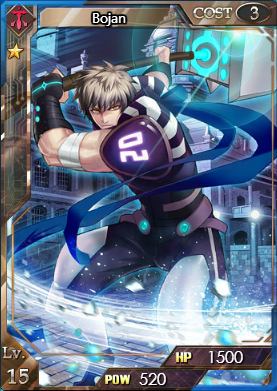 Star Level: ☆
Rarity: Normal
Energy Cost: 3
HP: Base - 790 / 869 (Flash)
Power: Base - 320 / 352 (Flash)
Max Limit Break: 3
Spell: Doctor: Wound Healing - Possibly restores 10 Energy when winning a battle.
College: Dragonale College
Illustrator: Octsky
Intro: Bojan gains great strength from genetic optimization. He Has several brothers with the same genes, but their growth status is quite different due to the malfunction of management. Bojan is stronger and taller than any of his brothers. Once he makes use of stardust, he is able to inflict massive damage whenever he attacks.
Obtain: Kindness Draw, Normal Infector drop.
Ultimate Form
Level: 15 / 15 (Flash) / 40 / 40 (Flash)
HP: 1500 / 1650 (Flash) / 3100 / 3410 (Flash)
Power: 520 / 572 (Flash) / 1700 / 1870 (Flash)