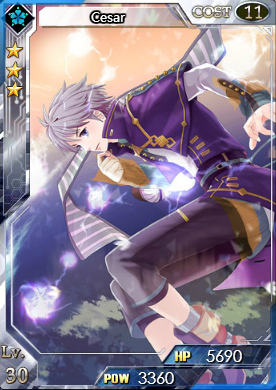 Star Level:  ☆☆☆
Rarity: Rare
Energy Cost: 11
HP: Base - 2640
Power: Base - 2060
Max Limit Break: 3
Spell: Light/Shadowy Stand-in - Restores 200% of the card's HP.
College: Godef College
Illustrator: C.K.F
Intro: Cesar is able to compress air. However, any mistake made when he is compressing nitrogen to produce a bomb will very likely make the bomb explode. So few people are willing to team up with him.
Obtain: Coupon Draw, Greater Draw, Super Draw, Normal Infector Drop, Berserk Infector drop, Exploration in some Common zones.
Ultimate Form
Level: 30 / 60
HP: 6690 / 9100
Power: 3360 / 5900