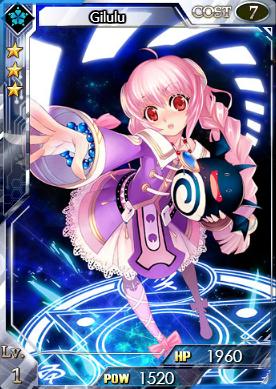 Star Level: 
 ☆ ☆ ☆
Rarity:  Rare
Energy Cost: 7
HP: Base - 1960
Power: Base - 1520
Max Limit Break: 3
Spell: Shadow/Demon Gathering - With more cards of [Godef College] in the group, Power increases by a larger margin
College: Godef College
Illustrator: OctSky
Intro: Gilulu was born in a notablle family of the 12 Consortiums, however she seems more lonely than anyone else. So she has been indulging in studying occultism, attempting to get rid of loneliness and misery. She likes to play a prank. She has often injected her own power into toy, turning it into weapon.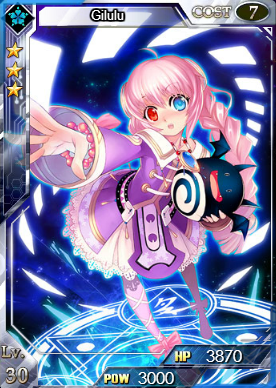 Obtain: Choose to play as Gilulu when starting the game.
Ultimate Form
Level: 30
Power: 3000
HP: 3870
Other
Gilulu is one of the three protagonists as whom you can choose to play when first joining a server, the other two options being Lear (who represents Skyrage College) and Mina (who represents Dragonale College). There are different buffs in battle depending on which cards correspond with the chosen character's college. In addition, each character has their own beginning card (as shown), battle cut-scene, and slightly altered version of the storyline.