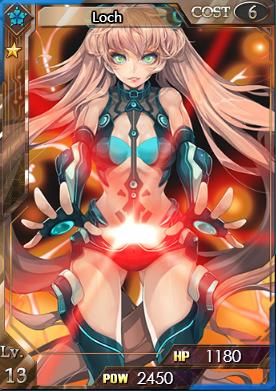 Star Level: ☆
Rarity: Normal
Energy Cost: 6
HP: 540
Power: 1530
Max Limit Break: 3
Spell: Fire/Ignite - Possibly restores 10 Energy when winning a battle.
College: Godef College
Illustrator: Asia Minor Dancer
Intro: Loch is able to wield the elements of earth. She was infected by inactive X substances during a human trial. Since then, she has been able to wield X substances but her mental condition has become unstable.
Obtain: Kindness Draw, Normal Infector drop, and Exploration in some Common and Daily zones.
Ultimate Form
Level: 13 / 40
HP: 1180 / 2700
Power: 2450 / 3600