Star Level:  ☆ ☆
Rarity:  Normal +
Energy Cost: 7
HP: Base - 1440 / 1584 (Flash)
Power: Base - 1250 / 1375 (Flash)
Max Limit Break:
Spell: Restores 100% of the card's HP when 4 or more cards of [Dragonale College] are in the group.
College: Dragonale College
Illustrator: ivy
Intro: Maria is a special human being created based on selected high-quality genes. It's said her DNA is from a heroine. However, she does look like a heroine at all. Instead, she is rather stubborn and evil and it seems as if she has a split personality.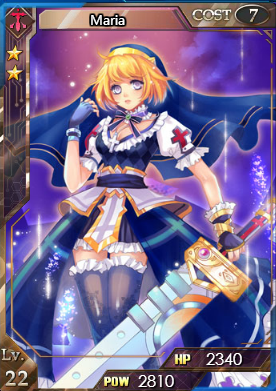 Obtain: Kindness Draw, Normal Infector drop, Berserk Infector drop, Exploration in some Common and Daily zones.
Ultimate Form:
Level: 22
HP: 2340
Power: 2810
Other
Not to be confused with Marie.