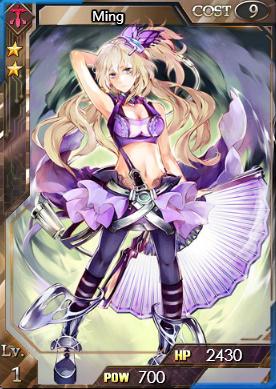 Star Level:  ☆ ☆
Rarity:  Normal +
Energy Cost: 9
HP: Base - 2430 / 2673 (Flash)
Power: Base - 700 / 770 (Flash)
Max Limit Break: 3
Spell: Restores 200% of the cards's HP.
College: Dragonale College
Illustrator: Deta
Intro: Ming is able to wield stardust. She has the DNA of some unknown creatures so that she is able to change her appearance strangely to make her tougher when wielding stardust.
Obtain: Kindness Draw (Flash), Normal Infector drop, Berserk Infector Drop, Exploration in some Common and Daily zones.
Ultimate Form:
Level: 25 / 25(Flash) 50 / 50(Flash)
HP: 4780 / 5258(Flash) / ?? / 8140(Flash)
Power: 1320 / 1452(Flash) / ?? / 3630(Flash)