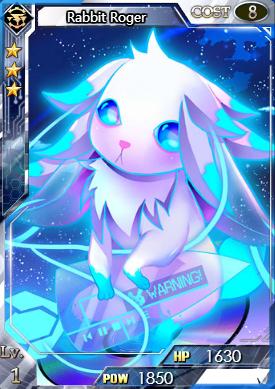 Star Level: ☆☆☆
Rarity: Rare
Energy Cost: 8
HP: Base - 1630
Power: Base - 1850
Max Limit Break: 3
Spell: #Super Laser - Power increases by 100%
College: Skyrage College
Illustrator: rhea
Intro: Rabbit Roger is the mascot of the Skyrage College. Because of the influence of X substances, it is growing up slowly and good at destroying alloy.
Obtain: Kindness Draw, Coupon Draw, Normal Infector drop, Berserk Infector drop, Exploration in some Common zones.
Ultimate Form
Level: 33 / 60
HP: 2780 / 6400
Power: 3680 / 6300
Other
Not to be confused with Roger & Kids.