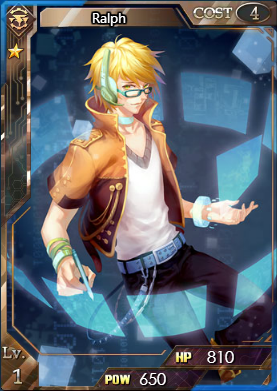 Star Level: ☆
Rarity:  Normal
Energy Cost: 4
Power: Base - 650/715 (Flash)
HP: Base - 810/891 (Flash)
Max Level: 13
Spell: Possibly restores a little SUPER when winning a battle.
College: Skyrage College
Illustrator: Nazisi 
Intro:  Ralph is one of the new-style human beings who have been studied by people in the Starsea College for accurate data to foster new human beings.  He is high on analyzing data and developing software.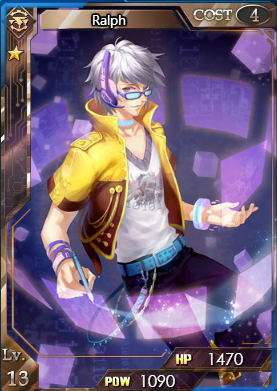 Obtain: Kindness Draw, Normal Infector drop, Exploration in some Common and Daily zones.
Ultimate Shape:
LVL: 13
HP: 1470
POW: 1090