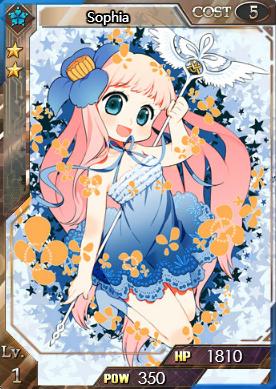 Star Level:  ☆ ☆
Rarity:  Normal +
Energy Cost: 5
HP: Base - 1810 / 1991 (Flash)
Power: Base - 350 / 385 (Flash)
Max Limit Break: 4
Spell: Sorcery/Cursing Puppet - Restores 20% of the card's HP.
College: Godef College
Illustrator: Catfish
Intro: Sophia is willful and lazy. To spare herself, she has invented a pot to cook fast, made use of her supernatural ability to copy homework..., but her friends comment she should have spent more time in what she should do.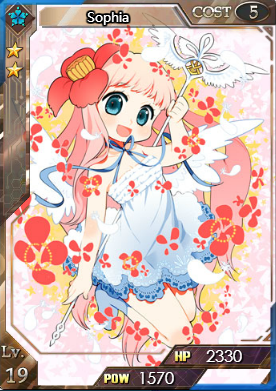 Obtain: Kindness Draw, Coupon Draw, Normal Infector drop, Exploration in some Common and Daily zones.
Ultimate Form
Level: 19 / 19 (Flash)
HP: 2330 / 2563
Power: 1570 / 1727