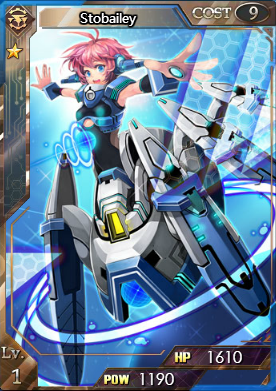 Star Level: ☆
Rarity: Normal
Energy Cost: 9
HP: Base - 1610 / ___ (Flash)
Power: Base - 1190 / ___ (Flash)
Max Limit Break: 3
Spell: #Burst - Power increases by 20%.
College: Skyrage College
Illustrator: Asia Minor Dancer 
Intro: The lower half of Stobailey's armor looks like spider legs and enables her to move very swiftly.  She is not very strong but she is good at playing up strengths and avoiding weaknesses.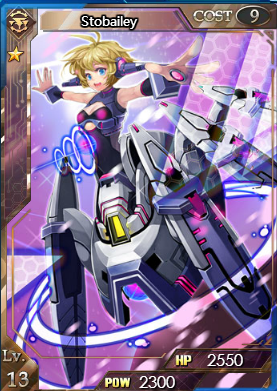 Obtain: Normal Infector drop, Exploration in some Common and Daily zones.
Ultimate Form
Lvl: 13/ 13 (Flash) / 40 / 40 (Flash)
HP: 2550 / ___ (Flash) / ___ / ___ (Flash)
Power: 2300 / ___ (Flash) / ___ / ___ (Flash)